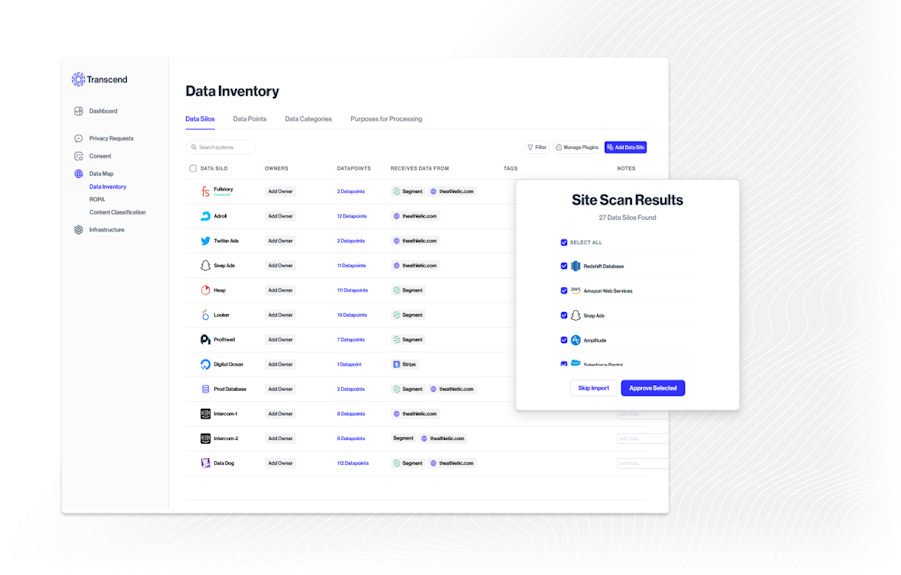 Automated data mapping. Eliminate one-off queries.
Use Transcend Data Mapping to discover your company's data silos, classify personal data, and auto-generate reports – all out-of-the-box, easy to implement.
Understanding your data lifecycle
Manage your data on autopilot
Operate efficiently
Manage your organization's entire data inventory in a collaborative, central hub that discovers, scans, and classifies data for you, no matter where it lives.
Know your data
Get visibility with a real-time, unified, and organized view of all of your company's data systems and the personal data within those systems.
Reduce risk
Transcend automatically flags systems with sensitive data and goes beyond observability by connecting mapped systems to your other privacy workflows.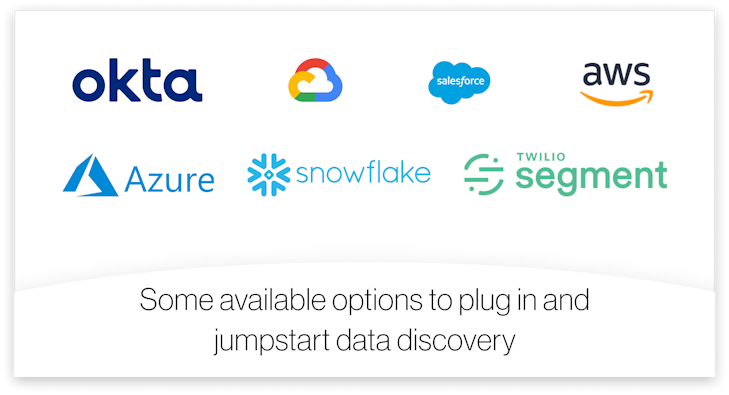 Automate data discovery
Plugs directly into your infrastructure
Transcend scans your website and plugs into your tech stack to quickly discover your data silos, auto-populates them into your live data map, and uses smart content classification to categorize personal data points.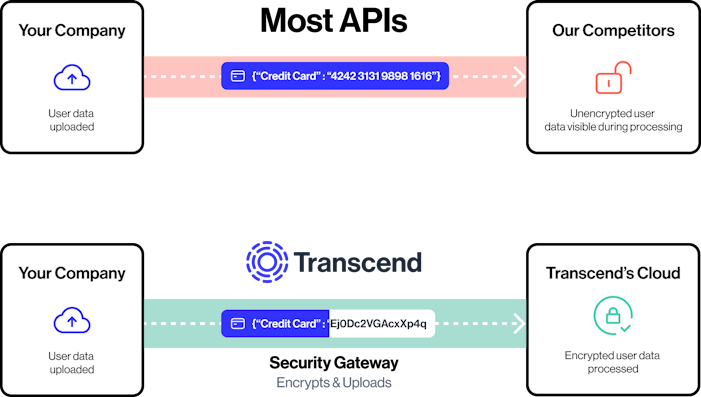 Robust security
Data visibility without security concessions
Rather than ask you to simply trust Transcend with your business data, we use a secure-by-design architecture which ensures that Transcend cannot see your data, does not have direct access to your systems, and cannot arbitrarily operate on your data. Pair this architecture with granular access configuration, SOC-II controls, and a unique self-hosted security gateway, and you can confidently connect even your most sensitive internal databases.
Our security architecture
Resource savings
Free up capacity for core engineering work
Eliminate the need for custom code maintenance as data system specs change. Access prebuilt workflows and zero-code customization to fully automate data requests—no humans required.
Get started in minutes
Unlock smarter data governance.
Get a Demo
Frequently asked questions