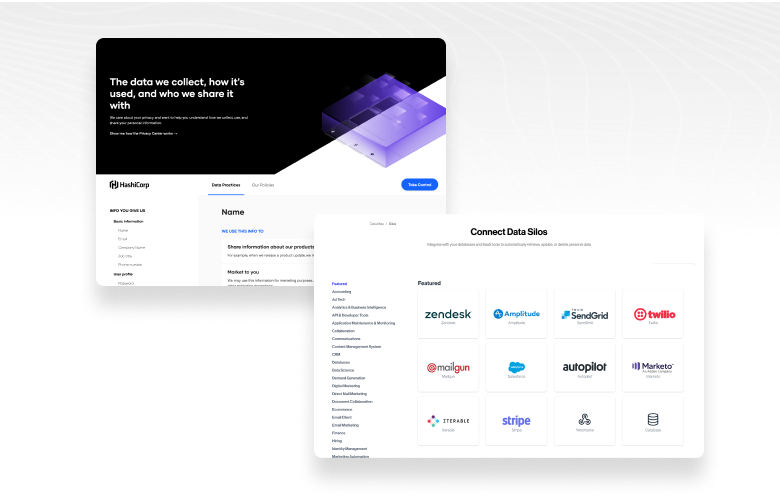 Privacy infrastructure trusted by top teams
Zero trust architecture. Built for engineers. Transcend makes it simple to give your users the privacy they deserve, while automating CCPA/GDPR compliance.
We're simplifying privacy for engineers and lawyers at brands you love.
Test pre title
It's the best tool you'll ever need, OK?
Transcend is the data privacy infrastructure that makes it simple to give your users control over their personal data.T ranscend is the data privacy infrastructure.
For engineering
Lightweight, prepackaged code that hooks up quickly with any data system for fully automated privacy workflows you can set and forget.
For legal
Complete coverage, decreased costs, and future-proofed compliance — built for today's and tomorrow's regulations, with full auditability.
For security
Secure by design with industry-leading protocols like single sign-on and end-to-end encryption — to reduce your breach risk, not add to it.
For developers, by developers
Stop unnecessary toil with drop-in privacy code
Site-friendly, blazing fast
Consent management doesn't have to mean a broken or slow site. Transcend Consent works in harmony with your existing setup without any complex configurations.
Beyond cookies
Stop tracking unconsented user data. Consent goes beyond cookies and third-party scripts to cover all 200+ types of trackers so you can be sure you're compliant.
Block Title
Lorem ipsum dolor sit amet, consectetur adipiscing elit, sed do eiusmod tempor incididunt ut labore et dolore magna aliqua. Ut enim ad minim veniam, quis nostrud exercitation