One late night in the fall of 2016, my classmate Mike Farrell and I got to talking about the wealth of personal data we dispense to online services. We challenged ourselves to track down this data from twelve of the most popular apps and quickly realized the task was, at best, deeply arduous — at worst, impossible. Inspired, we started a project to help people export personal data from the apps they use. As we built this project from our Harvard dorm room, we became aware that we were at the dawn of a privacy revolution that was going to turn our software into a necessity for companies everywhere. We're proud to announce we've raised a $3.95m seed round led by Accel to build something we call Data Privacy Infrastructure. In essence, Transcend wants to make it simple for any company to meet today's strict privacy requirements — and in doing so, give their users more control over their personal data.
While privacy concerns have been growing for years, they burst in 2018. In March, the Cambridge Analytica scandal broke, sparking a media frenzy and an erosion of public trust in Facebook. In May, the EU's sweeping privacy regulation — the GDPR — took effect, and companies have already incurred disastrous fines under its purview. In June, the CCPA, California's equivalent to the GDPR, was signed into law; it takes effect in just nine months. The privacy revolution is indeed happening. As stricter privacy regulations encircle the globe and greater privacy incidents loom, it appears it has only begun.
Contrary to popular belief, most companies want to respect their customers' privacy, and they expend a lot of effort trying. Building privacy controls into technologies, however, has proven to be an agonizing process that impedes product development. Ask any product person about their experience with the GDPR, and they'll echo this fact (perhaps after letting out a long groan). Privacy systems need not be built in-house by every company. One company should build it at scale, do it extremely well, and let software engineers work on the products they were hired to build. We founded Transcend to enable every product, sales, and marketing team to adopt privacy without slowing them down. We've spent the past two years building a full stack privacy product to achieve that.
1. Data Privacy Infrastructure (DPI): Plug and play privacy management for companies
Transcend's Data Privacy Infrastructure handles the complications of orchestrating personal data across scattered data systems, software tools, and vendors. Our DPI acts as a layer over these data silos and manages the personal data inside them. User requests to access data or change privacy preferences are performed automatically across all systems by the DPI. Transcend accounts for regional requirements and technical complexities that make DPI uniquely difficult for companies to build and maintain in-house. It's easy to plug any data system into the DPI via an HTTP API, or connect software tools from Transcend's growing catalogue of integration partners.
The Admin Dashboard is where you configure your Data Privacy Infrastructure.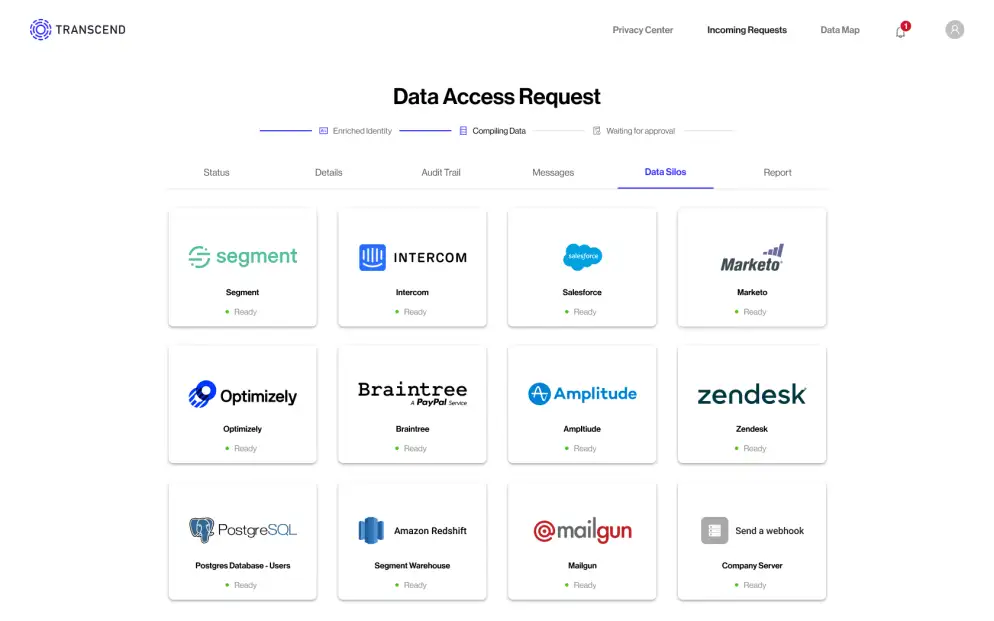 Transcend's Data Privacy Infrastructure is the first of its kind, and it makes it easy for companies to plug their products and tools into a central privacy system and get back to business. By lowering the technical requirements of building privacy into products, we think we can cultivate a reality where users everywhere are in control of their data.
2. Privacy Center: Putting users in the driver's seat
The Privacy Center is an interface for users to understand how their data is being used, access their data, and set any other privacy preference on their data. Users simply visit privacy.company.com.
The Privacy Center is where your users go to manage their privacy preferences.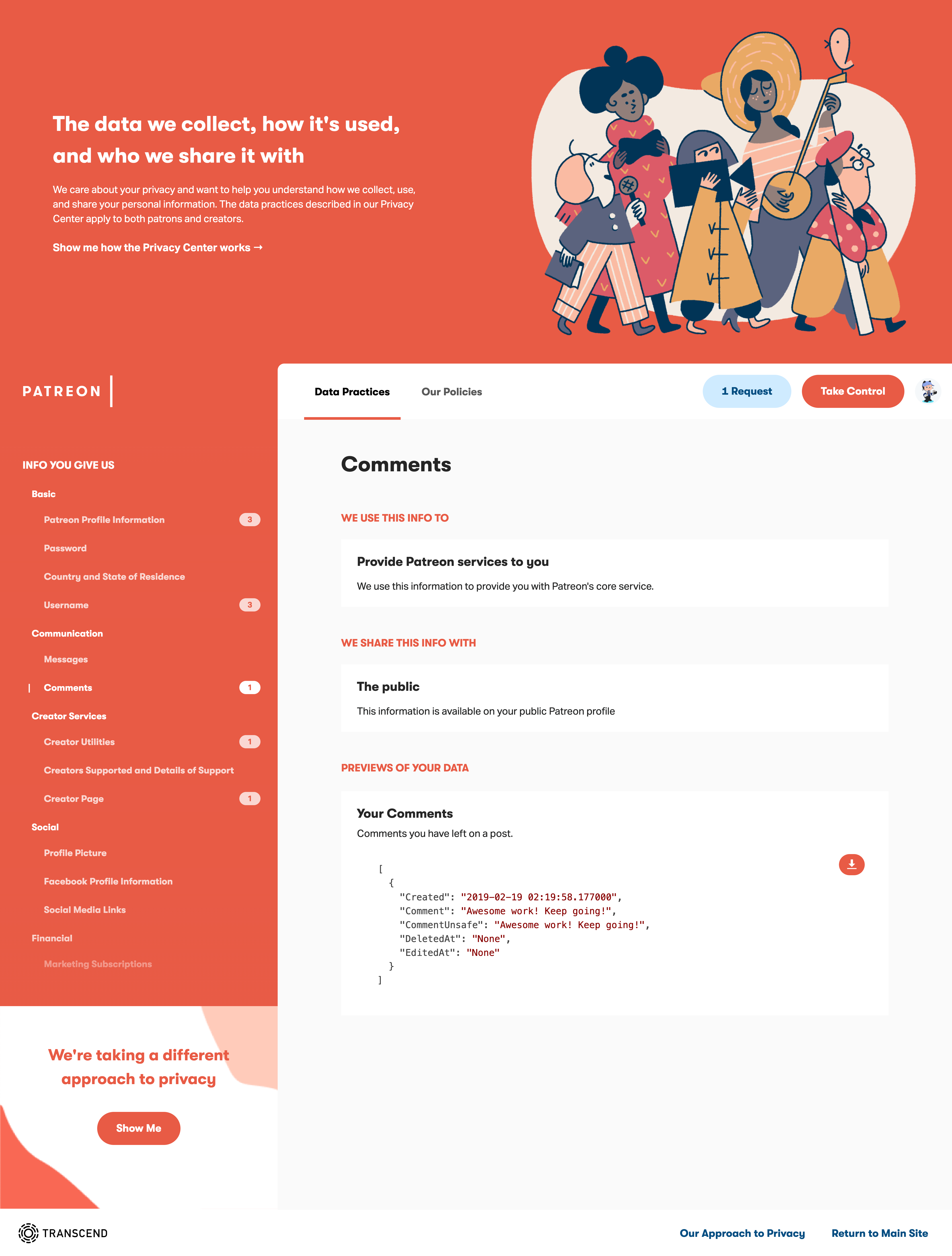 Existing privacy policies are undoubtedly the worst UX on the internet. Intended to explain the privacy implications of a technology to users, they are instead impenetrable walls of legal text. Transcend-powered Privacy Centers transparently give users both information about and control over their data — all in one place.
As we charge toward a future where every decision we make and action we take leaves a digital footprint, users need the ability to control their personal data. Most companies are willing to grant users this control but struggle to adapt systems that weren't built for today's requirements. Our Data Privacy Infrastructure will make it possible for companies to put users everywhere in control of their data. We're proud to have Accel's support, and we're thrilled for what's in store.