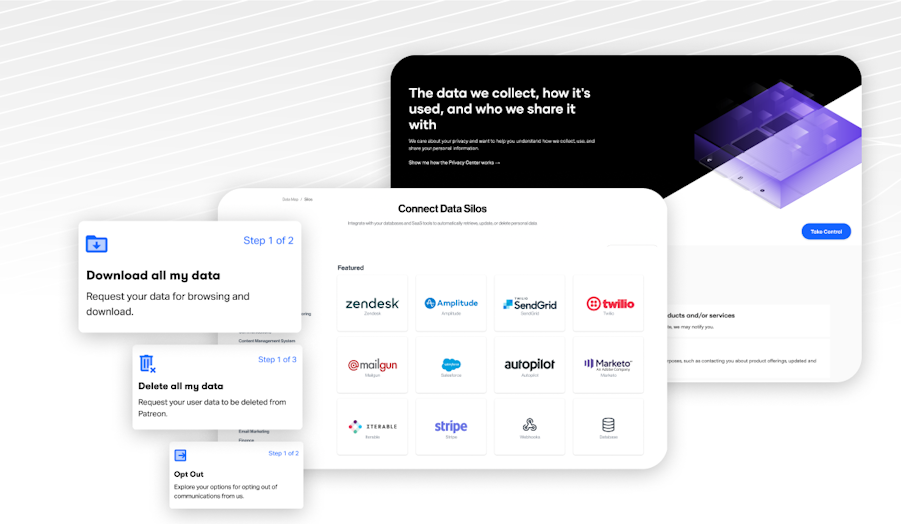 B2B privacy, simplified.
Staying compliant with data privacy can be an operational nightmare—from varying data processor and data controller responsibilities, Data Processing Agreements (DPAs), and more. With Transcend, put the pain in the past with a platform built to scale, no matter what your requirements are.
Transcend for B2B companies
One platform to handle it all
Transcend is engineered to automate privacy compliance across any user type, data system, or DPA your business may support.
As a data processor
You're faced with an uphill battle against the varying DPA obligations for the business customers you serve and for operating on the data they own that you hold. As your customer base grows, so does the scale and complexity of executing each privacy flow.
With Transcend, serve customers an API endpoint for programmatic privacy request fulfillment, give support teams a dashboard to handle requests, and set up specific self-serve processor workflows. Transcend's platform adapts to your needs, so you put your company's best foot forward.
As a data controller
Your company owns the personal data you collect, most commonly from sales and marketing activities or from candidates applying to open positions.
Transcend automates these privacy request workflows from wherever that data lives and from the same dashboard as your processor workflows. Be it your Salesforce instance or an internal database, and whatever the data subject type, from a newsletter subscriber to a candidate, and more.
Resource-efficient
Scale, without the privacy pain.
Tame the torrent of data controller, processor, and sub-processor complexities with a platform that turns manual processes into automated workflows that run in real-time to delete, return, or modify a user's data across your tech stack.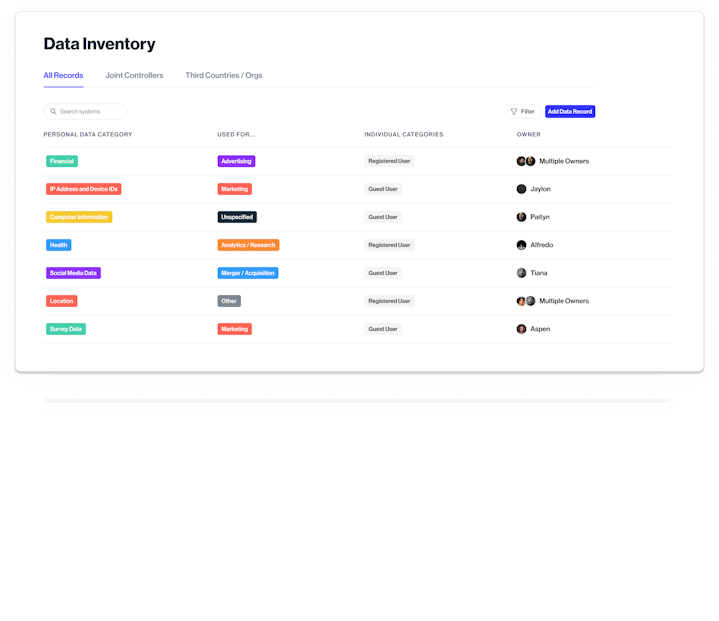 Unified privacy platform
Organized and in compliance.
From a comprehensive data inventory and relationship mapping, to audit trails and auto-updates, Transcend turns chaos into automated compliance—no matter what data role, DPA requirements, or data systems your company faces.
Customizable
Clarity to focus on necessary requests.
Are your customer's customers reaching out to you directly with privacy requests? Rather than wasting valuable resources ingesting these requests, use Transcend to program rules with automated responses or workflow logic at the code layer. Avoid ping-ponging requests through your systems and your controller's systems and save resources.
"Transcend's trustless data privacy processing and engineering-first applications stacked up extremely well with our environment, our technical teams, and the Tao of HashiCorp. In a 'build versus buy' world, our engineers focus on delivering our mission critical infrastructure to the world, and we trust Transcend to help us meet our important data privacy needs."
Altyn Sydykov | Director for Governance, Risk, & Compliance, HashiCorp
Set up is easy
Future-proof your privacy program. Go live in minutes.