The following post is an excerpt from a case study by our friends at Mailgun by Pathwire, of how our shared customer Patreon uses Mailgun and Transcend for privacy-respecting email communications at scale. Read the full case study on Mailgun's website.
Today, laws like European Union's General Data Protection Regulation ("GDPR") and California's California Consumer Privacy Act ("CCPA") means that your applicable consumers have the right to request access or deletion of their data. These privacy requests, like access and deletion, have to be rolled through a company's entire user data system, including Email Service Providers (ESP) like Mailgun by Pathwire and other SaaS partners.
Seamlessly handling your data privacy operations is an essential part of ensuring that your emails get to the right people's inboxes with all of the right permissions. There's nothing worse than sending out emails that you shouldn't have sent based on a customer's privacy preference. Not only is it embarrassing, but there can be serious legal ramifications for violating data privacy standards.
Patreon, the international online membership platform for creators and their fans, makes every decision with one goal in mind — getting creators paid.
Patreon uses Mailgun to help manage email communications for their immense, online universe of creators and patrons. Mailgun handles all of Patreon's transactional emails, which amounts to millions of password resets, receipts and new follower alerts a month. Patreon also partners with Transcend, a data privacy engineering company, to ensure robust data controls on data subject access and deletion requests.
Before the Transcend and Mailgun integration, Patreon manually processed every data privacy request from a creator or patron. For example, if a patron requested to delete their data, Patreon would alert Mailgun - and every other SaaS vendor they used - which prompted Mailgun to delete the patron's data. The manual process caused efficiency drains on Patreon's internal teams, so Patreon searched for a solution to automate their systems at the code level. They found what they were looking for in Transcend.
Now, the Mailgun and Transcend integration removes the busy work for Patreon, so they can focus on getting creators paid.
"With our Mailgun interface hooked up to our Transcend data privacy infrastructure, we gain even greater confidence in our email communication. Given the size of our community, this is a massive benefit for us," said Jason Bilog, Patreon's Marketing Operations Manager.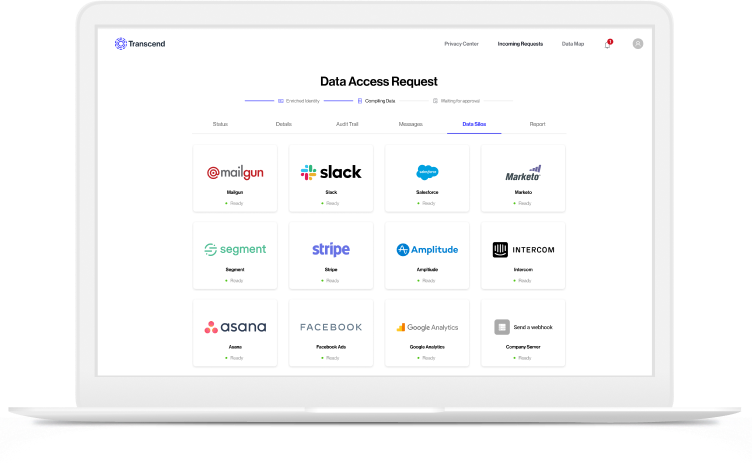 Read the full case study of how Patreon leverages Mailgun and Transcend for scalable and privacy-respecting email communications on the Mailgun website. Or, learn more about Transcend's integration with Mailgun and our other privacy integrations on our Integrations Directory.