Easy consumer-friendly privacy.
Offer your users elegant privacy experiences and gain powerful and efficient back-end automation. Transcend offers the easiest and most comprehensive way to delete, return, or modify a user's data or preferences across your tech stack.
Transcend for consumer companies
Your users have data rights. Transcend lets you easily honor them.
Fully automated
Gain complete control and observability by hooking up all your systems to fulfill privacy requests. Go one step further with full automation so your privacy program requires no humans in the loop.
Better consent management
Transcend governs all 200+ types of trackers so you can ensure nothing is tracked on your company's site without user consent—all without sacrificing site performance or UX.
More secure, less risk
Engineered to be secure by design, with single sign-on and granular access controls on every plan. Plus, our self-hosted security gateway encrypts your data within your firewall, so we can't even access it.
Better site consent
Design flexible, privacy respecting web experiences
Stop tracking unconsented user data—no matter how or where you collect it, Transcend Consent can govern it. Go beyond cookies and third-party scripts to cover all 200+ types of trackers, with the flexibility to move the consent banner off your homepage.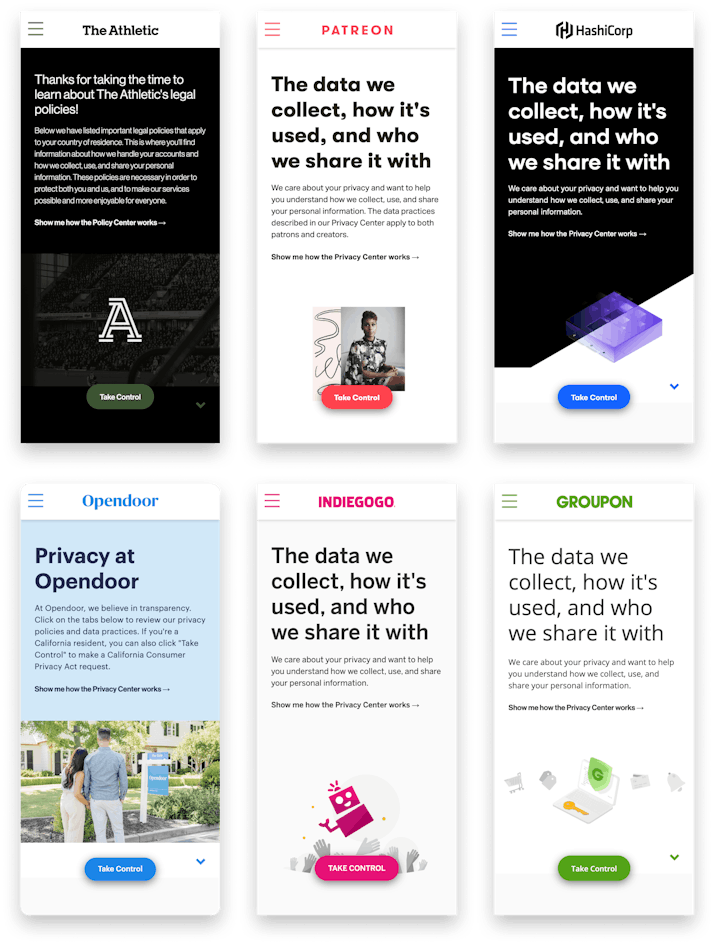 Self-serve privacy center
A powerful way to give your customers privacy control
Give your customers self-serve control to request and download their data in just a few clicks. Configure your Privacy Center to service multiple data subject types and different authentication methods, and access prebuilt workflows to automate privacy request fulfillment.
Industry-leading security
Reduce your breach risk, don't add to it
With our self-hosted security gateway, the data you hold is encrypted within your firewall, and any requests for your data are authorized by a trusted system. That means we can't view (or lose) your API keys, we can't see your user data, and we can't forge a request to your system on behalf of a user.
Our approach to security
"Clubhouse is in high growth mode with a nimble engineering team. We needed a strong data privacy partner that could immediately add value and that could keep up with our expansion, with the right stack to meet our needs as we grow. Transcend has helped us get a handle on several important aspects of privacy engineering so we can solve things the right way for our community."
Taylor Hughes | Trust and Safety Engineer, Clubhouse
Setup is easy
Future-proof your privacy program. Go live in minutes.