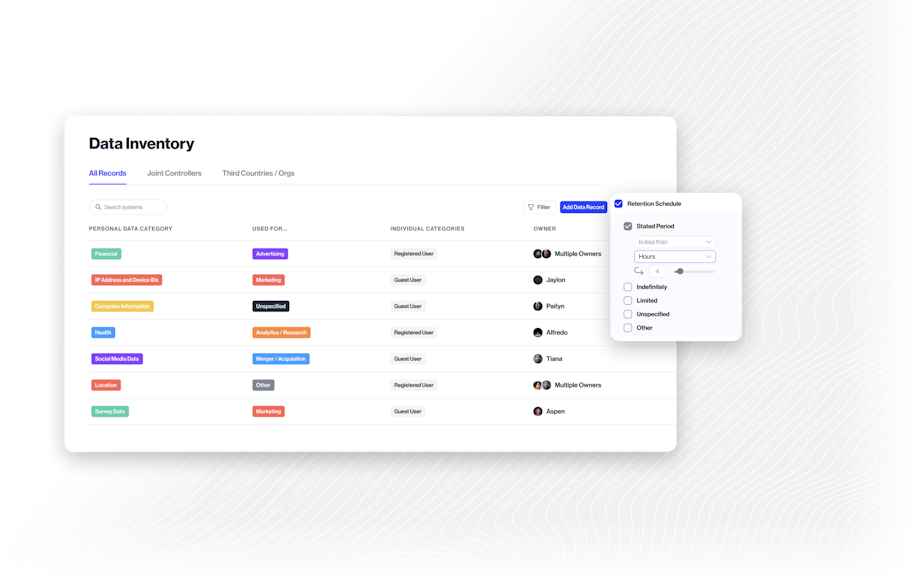 Data mapping for ROPA compliance.
Your live and collaborative data map for automated privacy request fulfillment and seamless Record of Processing Activity (ROPA) generation for GDPR compliance.
Always-on visibility
Data mapping that powers your privacy program and enables data governance with automated privacy request fulfillment and easy ROPA generation for GDPR Article 30 compliance.
Resource savings
Manage your entire data inventory seamlessly with a collaborative, central hub that auto-generates records and keeps tabs on completion, so nothing slips through the cracks.
Reduced risk
Granular access controls, single sign-on in every plan, plus on-premise security gateway with end-to-end encryption and flexible key management. Built to be secure by design.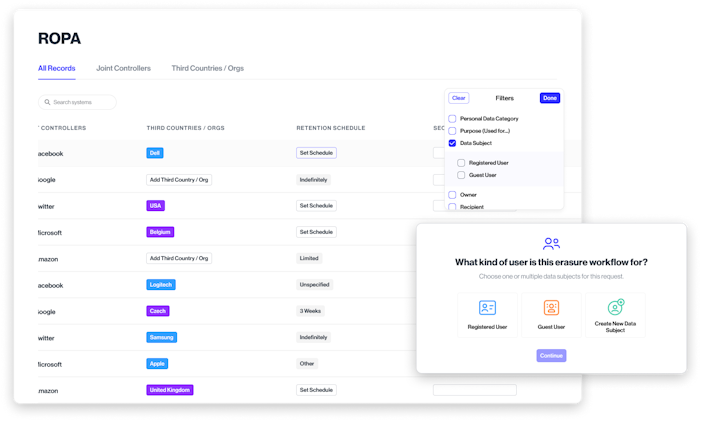 Live data map
Enable your privacy program
Gain continuous visibility into your company's data silos, categorizations and systems owners. Your live data map prompts new data silos to be updated in your Transcend instance for hands-free, automated privacy request fulfillment.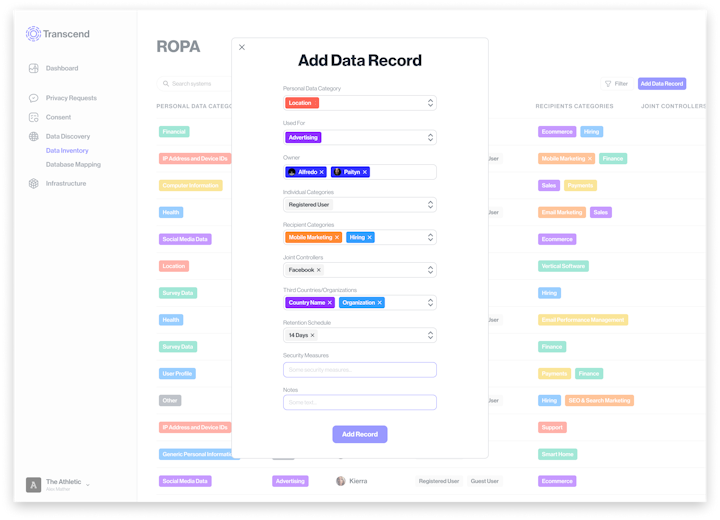 Resource savings
Efficient, easy to use and collaborative
Seamlessly manage your entire data inventory across teams, time zones and more. Go beyond spreadsheets with a central hub that tracks record completion, provides task updates and ensures data inputs don't slip.
Industry-leading security
Reduce your risk with enterprise-level security.
Engineered from the ground up to be secure by design, including features like single sign-on and granular admin access controls on every plan. With our self-hosted security gateway, your data is encrypted within your firewall so we can't access it. Plus, a live data map helps uncover and identify any risky data, so you can take appropriate actions and reduce your data supply chain risk.
Get started in minutes
Gain continuous visibility into your company's data.
Speak to our team